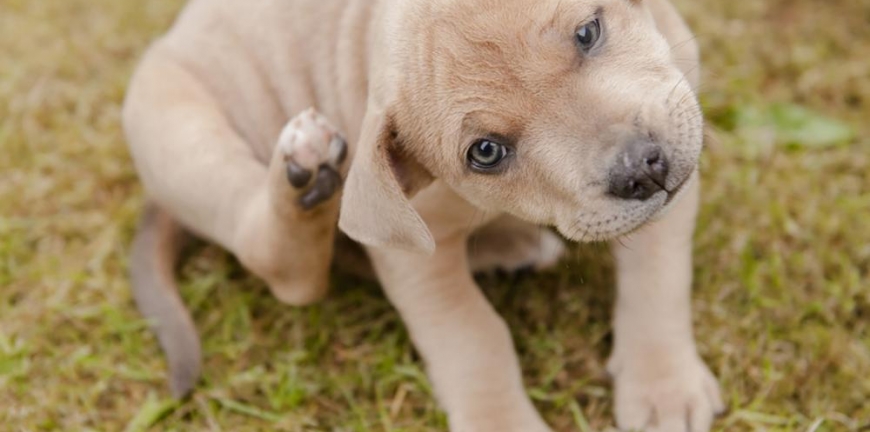 Best Flea Collar for Dogs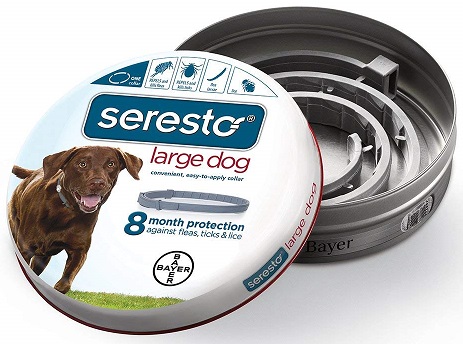 I decided to do this Bayer Seresto Flea and Tick Collar review after reading tons of desperate posts from pet parents who had no idea how to treat fleas on their pets. Particularly so, because we'd been through flea-hell for months at end before discovering what seems to be a permanent solution to the problem, the Seresto Flea Collar.
To start off, if you live in the countryside or close to the woods or in just about any area with warm, tropical weather, fleas are a given. And despite what you've read or heard, or your friendly neighborhood pet parent has been raving about, nothing really seems to work when you are dealing with a flea infestation. Bombing, salting, dichotomous earth, corn oil, traps, sprays, lotions, shampoos, garlic, those nasty critters will always find a way to escape and survive. Sometimes makes me wonder whether the zombie apocalypse that everyone's talking about has already begun in the insect world!
Jokes apart, fleas and ticks are incredibly resilient. Pet flea and tick control is difficult, there seems to be only a handful of things that will work against them. This collar is one of them.
Here's our experience with it.
What is the Bayer Seresto Flea & Tick collar?
It is a convenient, easy-to-use alternative for topical applications and cumbersome medicines, which I personally hate trying to administer to Bella and Kobe. In my experience, not only is the Seresto collar the best flea collar for dogs, it is also the best tick repellent for dogs, when all other options are considered.
It is odor-free, non-greasy and comfortable for dogs of all sizes, with two distinct variations: the Seresto Collar for Dogs under 18lbs, and the Seresto collar for dogs over 18lbs. (I ordered the large ones for Bella and Kobe)
In normal circumstances, the collar provides up to 8 months of protection from fleas and ticks.
It does not interfere with your pet's restraining collar or identification tags either. Both can be worn simultaneously.
It is water-proof. Although the duration of protection reduces by a couple of months if your rambunctious dog has a habit of jumping into every puddle or pond that it comes across. Bella does tend to like the water, so the lifespan of her flea collar will probably be reduced. Regardless, that was not a deal-breaker for us.
How does the Bayer Seresto flea collar work?
The collar has two active ingredients, Flumethrin and Imidacloprid, clubbed with Bayer's patented slow-release technology, which continuously distributes these ingredients on your pet's body for up to 8 months.
To be honest, I was initially a little skeptical about letting Kobe and Bella wear the collar, because I had previously read on messaging boards about the ingredients being potentially toxic for dogs.
I spoke to our vet about it who directed me to multiple clinical studies that have proven the efficacy of these ingredients against fleas and ticks, as well as highlighted the fact there is no credible evidence of toxicity.
(https://parasitesandvectors.biomedcentral.com/articles/10.1186/1756-3305-5-102)
(https://www.ncbi.nlm.nih.gov/pmc/articles/PMC3361670/)
On went the collars!
And I do not regret it one bit.
Put aside your reservations folks, the blend of Flumethrin and Imidacloprid in a slow-release system is hands down one of the safest and most effective options, for tick and flea pest control.
This collar is not toxic! Why I even sleep next to Kobe and Bella while they have their collars on.
Does it kill fleas or just repel them?
It kills the nasty buggers. That's what we like the most about it. No more half-measures.
The chemicals coat your pet's skin and every time a flea hops on for a drink or two, it just zaps them right there.
After putting the collar on our dogs, I found dead fleas for a few days during the brushing and grooming sessions.
A week later, no fleas.
A month later, no fleas. Not even eggs.
Six months later, still no fleas.
Is the Seresto collar safe for dogs with sensitive skin?
In all fairness, reportedly some dogs do seem to develop an adverse reaction to the chemicals in the collar. Though if further investigated, these same dogs are likely to be prone to allergies in general, and will probably be unable to use any chemical based treatment, being better suited to a natural flea and tick treatment.
Any adverse reactions do appear to be the exception rather than the rule, the Seresto flea collar reviews should verify this. Thankfully, any allergy symptoms subside immediately once you remove the collar, with no lasting negative impact. Bayer is very helpful and will guide you on how to remove the chemicals from your pet's skin in the rare event that it develops an allergic reaction.
A few things that need a mention
All said and done, there are a few quibbles that I would like to share with you.
Firstly, the collar is available in only two sizes, small and large. So, if you have a medium-sized pet, you'd have to pick the large one and trim it to customize the size. No sweat really. But it does need a mention.
Secondly, you can only bathe your pet once a month if you wish to keep the potency of the chemicals intact. Think of each bath like a reset button where the chemicals will be re-released into the pet's body. This isn't the best of choices for outdoorsy pets like Bella, but it's a small trade off that we are willing to overlook. Especially because it's an end to pungent-smelling, greasy topical solutions and persistent itchy skin.
Pros
Easy to use, convenient
Up to 8 months of protection from ticks, mites and fleas
Completely safe as proven by multiple clinical studies
Water proof
Sturdy and can be worn along with other leashes/collars
It works!!!
Cons
You can only bathe your pet once a month
Some pets may develop an allergic reaction
The duration of protection reduces to 5 months in swimmer dogs
Verdict
I hope that this review helps you understand how effective the
Bayer Seresto Flea and Tick Collar is for both killing and repelling ticks and fleas. Like I said before, try it. You are not going to regret your decision. But don't just take my word for it, check out these additional Seresto flea collar reviews. The numbers speak for themselves.