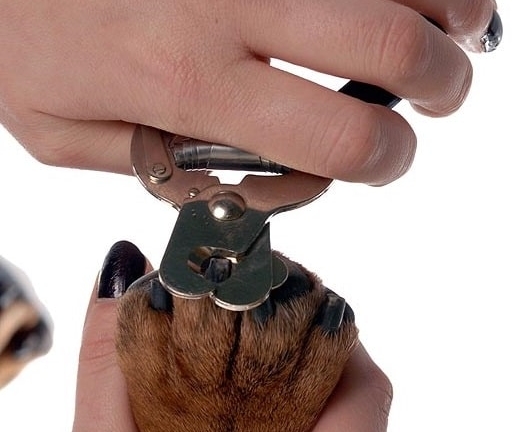 Technically, dog nail clippers include scissor (Millers' Forge) and guillotine styles. Usage is similar and the type you choose down to personal preference and, to some extent, the breed of dog. My list of the best dog nail clippers includes both scissor and guillotine style clippers. In practice, I prefer scissor-style clippers over guillotine-style trimmers, in much the same way I usually cut my own nails with scissors rather than nail clippers. The American Kennel Club suggests that scissor-style dog nail trimmers are a better choice for larger breeds as their robust construction and design confers more force to cut large, thick claws.
https://www.akc.org/expert-advice/health/how-to-pick-dog-nail-clippers
Many of my dog-owner friends swear by the guillotine-style; they are arguably easier to use, and probably a better choice for small or medium dog breeds.
Bear in mind that whether you opt for scissor or guillotine dog nail clippers, both make a distinct metallic 'clunk' when the blades make contact. Even if you don't touch the dog nail quick, the pressure of both scissor and guillotine clippers can squeeze it and may be uncomfortable, if short-lived. Together, the sudden noise and pressure can be disconcerting for your dog. Expect your dog to jump and/or pull his/her foot away. This is a completely normal reaction.
Remember my tips in the How to Trim Your Dog's Nails article: treats, praise and patience. You know your own dog best, so if your pooch will only tolerate one nail being clipped at a time, so be it. You can build on this. Some dogs like the security of their owner lying over them as nails are trimmed and this has the advantage of preventing your four-legged pal from bolting. Be firm and confident, but not a nail-clipping tyrant!
Now check out my list below on the best dog nail clippers:
Countdown
Coming in at No. 5 on my list of the best dog nail clippers are the OmegaPet Large Breed Dog Nail Clippers The stainless steel blades on these scissor-style clippers are sharp, allowing for a clean, neat cut; the soft handles comfortable and easy to grip. They include a safety guard to mark exactly where you want to snip the nail – a feature I wouldn't do without. In poor quality or less modern scissor trimmers without this feature it is easy to position the trimmers backwards, and inadvertently cut further down the nail than you've planned. This is a very common mistake and probably the number one reason the quick is breached.
As an extra safety feature, the trimmers can be locked shut when not in use. These OmegaPet dog nail clippers also come with a metal nail file tucked into one of the arms of the scissors, if you're after that perfectly pawdicured look.
Verdict: Averagely-priced, functional and equipped with sufficient features to do an excellent job of clipping your four-legged pal's nails.
The Epica Pet Nail Clipper takes the No. 4 spot. These general purpose scissor-style clippers will suit dog breeds of all sizes and come with an impressive 'lifetime warranty', though it isn't clear exactly what this means. I'd prefer the product to specify how long the warranty lasts for, because lifetime is not a fixed concept! That said, these nail trimmers are good value and the semi-circular blades allow you to see exactly where you are cutting the nail. The heavy-duty spring action blades are made of tempered steel so that minimal force is required to clip each claw. As I would expect, a blade guard comes as standard. The handles are particularly comfortable and the rubber coating and finger-shaped ridges ensure a firm, confident grip. Unlike some of the other Top 5 recommendations, the Epica Pet Nail Clippers don't include a nail file, but it's a minor gripe and I certainly haven't found much use for a nail file. If you own a show dog, this might be more of an issue, so bear this in mind if purchasing these dog nail trimmers.
Verdict: Sharp, efficient no-fuss-no-frills clippers that do exactly what they're supposed to.
These guillotine-style clippers are more expensive than some but include a range of extras, like the inbuilt LED light designed to illuminate the quick in dogs with white nails. [Note: this will not work well on black nails]. The switch can be set to OFF, ON, or 'trigger' (the LED activates only when the handles of the clippers are squeezed together). I prefer this setting as it is practical and battery-efficient. The Peticare trimmers come complete with batteries so they are ready to use straight out of the packaging. They also include a transparent plastic 'hood' that acts as a 5x magnifying glass and a receptacle to catch nail clippings. I consider this feature a bit gimmicky; one reviewer suggests that the magnifier is a good idea in theory but quite fiddly in practice.
The hardened steel blades are sharp enough for the job in hand (or 'in paw') and packs of 3 PetiCare replacement blades can be purchased separately. Just how long each blade lasts depends on how often they are used and how hard your dog's nails are, but the availability of replacement blades means that these trimmers really could last a lifetime. Bear in mind that guillotine clippers like these Peticare ones have 'upper' and 'lower' handles that must align with top and bottom of your dog's nail. Battery and blade replacement is straightforward (use a coin to open battery slot; paper clip or similar to slide blade out).
Verdict: Innovative guillotine clippers offering an all-in-one, mess-free job. Pricier than some dog nail clippers but have the potential to last and last.
In the runner up position, my number 2 recommendation is the Gonicc Dog Nail Clipper. Well-priced, razor-sharp scissor-style trimmers with ergonomic handles and the benefit of a safety guard, lock and unlock feature and included nail file. The blades are sharp enough to snip nails in just a single cut, minimising the amount of time your dog has to endure the procedure (let's face it – very few dogs relish having their nails clipped). Gonnic offer a lifetime replacement warranty and the product includes a contact email in the event of any problems. Gonnic's Dog Nail Clipper is an excellent all-rounder that combines efficiency, safety and value for money.
Verdict: Easy to use, have all the expected features and don't break the bank.
The best dog nail clippers around and the ones I put in the no. 1 spot are Boshel's Dog Nail Clippers. These scissor trimmers feature soft-grip handles, safety stop and included nail file, as well as super-sharp 3.5 mm stainless steel blades. So what sets them apart from others with exactly the same features?
For one thing, Boshel's Dog Nail Clippers are recommended and used by veterinarians and groomers.
For another, these dog nail clippers are bestsellers for a reason: as thousands of satisfied customers can testify, they do an excellent job. Blades are guaranteed to stay sharp for years, cut through even the toughest nails with a single cut and don't split the nails like some trimmers.
Oh, and did I mention they are very reasonably priced? I'll let Boshel's Dog Nail Clippers speak for themselves: 'We are simply the best dog nail clippers!'
Verdict: Great all-rounders, efficient, popular and very well-priced.